CHLOE 15x20 CM

research-based installation / video (6) / projection / photography / performance / perfume smell
"Chloe 15x20cm" is a conceptual room installation.
The central starting point is a stock photo from a cheaply purchased picture frame. "Chloe 15x20cm" is the exact product name of the picture frame model. The insert enclosed in it shows a portrait photo of a female model, it serves as a placeholder for private photos or other motifs.

The photography is merely a waste product. The person in the photo has no further meaning. It only affects buying. As a potential blank space, it is overwritten, exchanged, and replaced by the buyer's content. Ida Kammerloch sets up the picture frame at home. The serial stock photo integrates quickly into the personal living space. Projecting the need for a more intimate relationship with the person in the picture.

The installation elements mix documentary research with fictional narratives. The identity of the model, the actual person behind it, is reconstructed based on manufacturer information via Google image search, image databases, websites, Facebook, Instagram, VK and Ask.fm. The artist uses an anonymous question portal to contact the real person behind the picture. The personal profile condenses. Banal information such as body mass index, leisure activities, or preferred consumer goods is determined and documented. The same beauty products and care routines are used. The dense personal profile becomes opaque, it loses its digital transparency. The line between performative approach and real appropriation gets blurry.
The assembly of olfactory, visual, and acoustic parts in the installation allows both identities to become fluid. The fragments are ephemeral, subtle, and condense into a spherical network throughout the installation.

The work was conceived in 2017 on 360 m² in the underground garage of a former shop in Saarbrücken. The accessible chambers, delimited with transparencies, are microcosms of a seemingly digital world, the realities of which manifest themselves through space, time, and body. You can see a blurry exterior through the rooms, the movements caused by the installation make the walls made of thin transparent film vibrate.

Chloe's real name is not mentioned.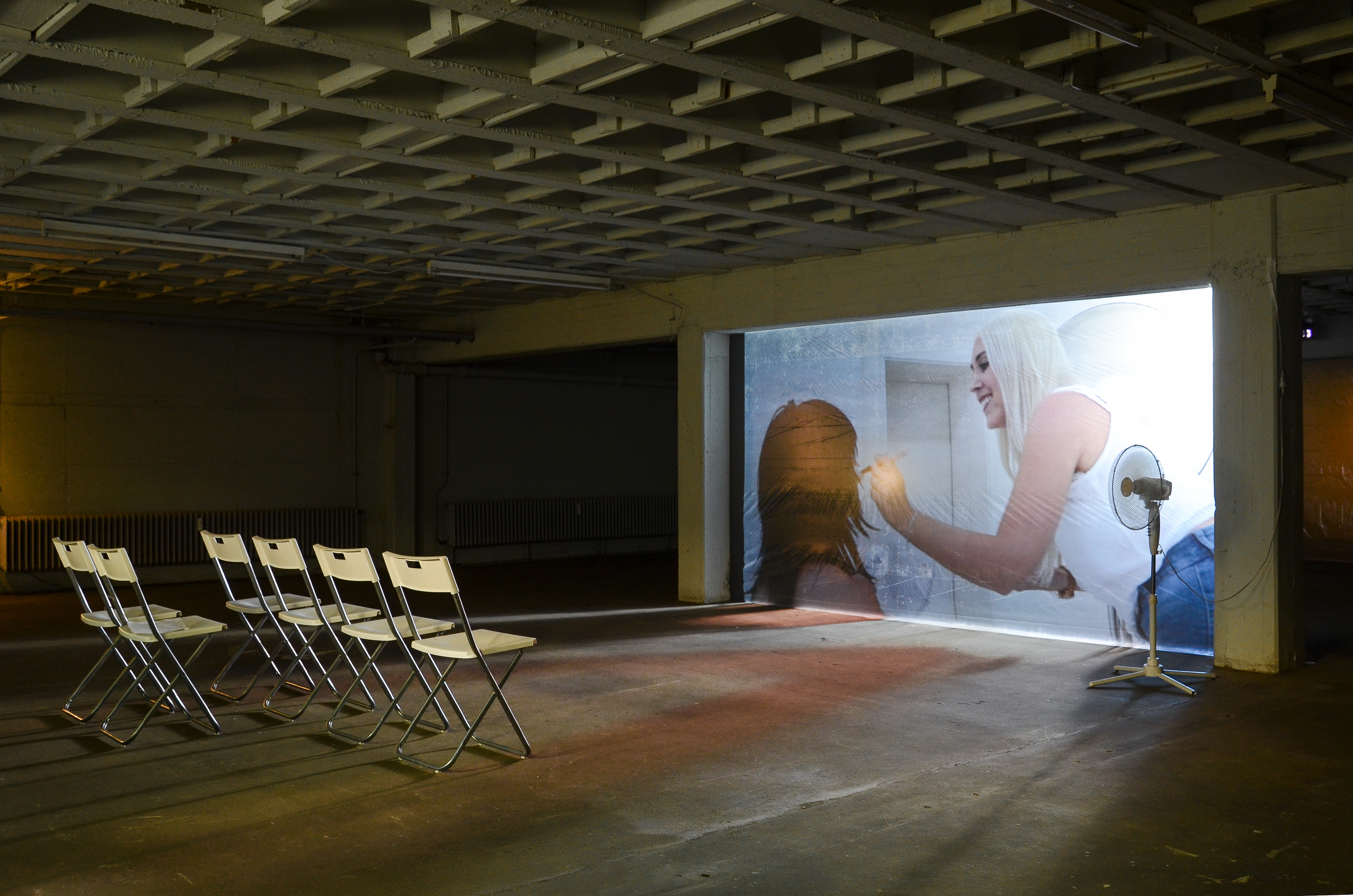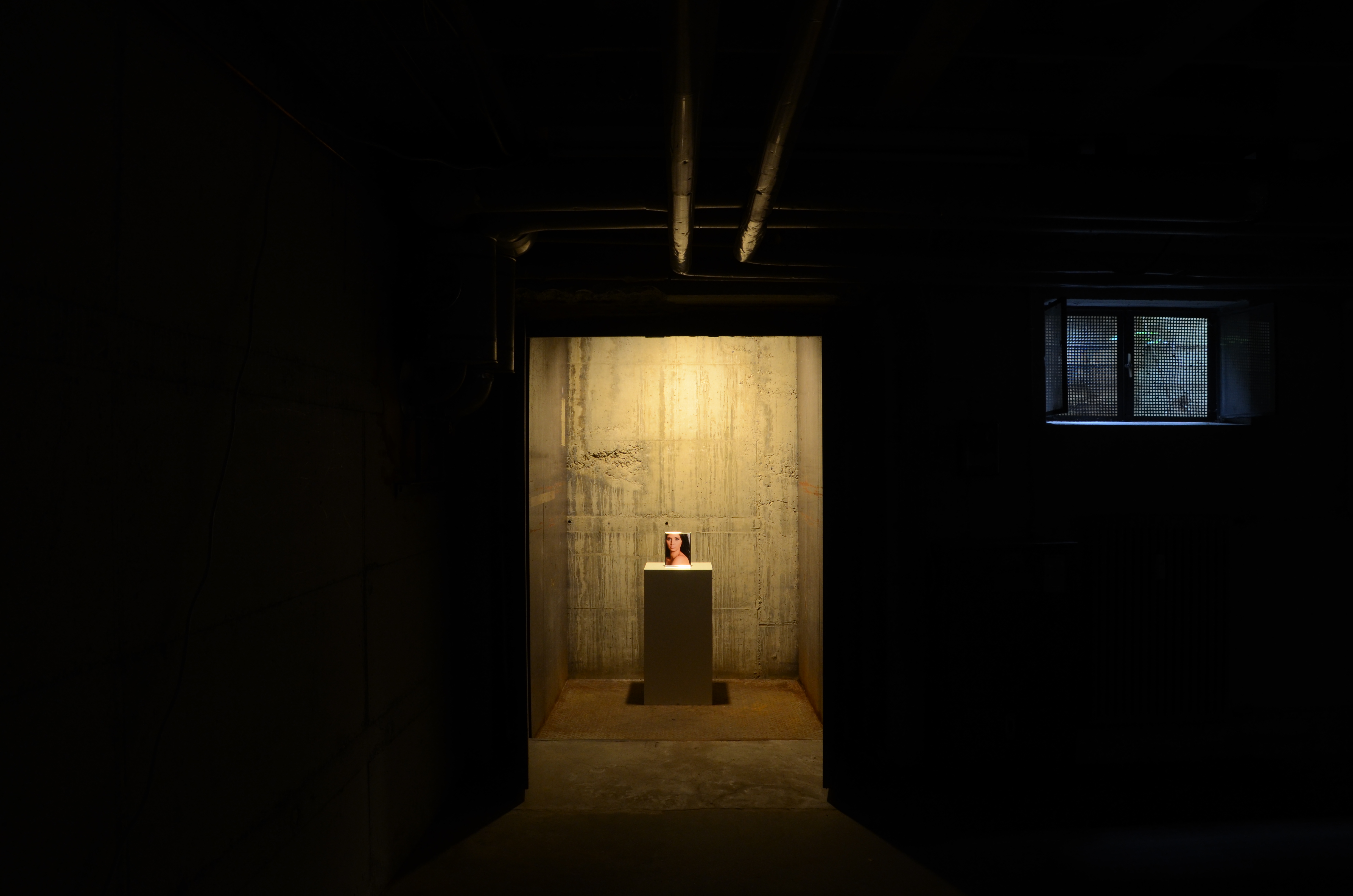 Recently I bought an apple with the face of the Mona Lisa on it. A sticker. The apple seemed to smile at me. That might sound kind of idiotic now, but compared to the other apples in the shop, this one attracted me the most. As if a thin aura had formed around it. Really strange.
I then bought it and ate it. However, I have not noticed any particular difference in taste.

excerpt sound
anonymous: "Can you recommend a good photographer for an ordinary photo shooting?"
Chloe: "I don't appear on ordinary photos."


09.02.2015 (19:07)




anonymous: "Do strangers call you?"
Chloe: "No." 18.11.2014 (9:27)


18.11.2014 (9:27)


anonymous: "What about the evil eye? Are you afraid of it? Are there any amulets for photo models??"
Chloe: "I don't believe in that."

13.05.15 (23:32)

anonymous: "Classic face. Such girls are also called "moths". A white canvas, plasticine that can be brought into any shape."
Chloe: "A person who is changeable is global and universal."


15.06.16 (1:16)


anonymous: "What perfume do you use and what is your favorite smell?"
Chloe: "I have been using Be Delicious from DKNY for 10 years. My favorite smell is vanilla."

03.07.17 (3:39)


anonymous: "Is it still worth becoming a model at the age of 20?"
Chloe: "Depends on the case."

20.10.15 (22:01)


anonymous: "What face type are you?"
Chloe: "Commercial."


08.06.15 (4:44)

anonymous: "How can I learn to walk in high heels? I've been trying for so many years and can't afford more than a full day. Help!"
Chloe: "If you feel uncomfortable in high heels, don't even start! Your feet will thank you. I loved wearing high heels as a little girl. I certainly don't feel any smaller heels."

24.01.15 (16:28)
Ida: "What do you think of the name Chloe for a name?"
Chloe: "Beautiful name, but it wouldn't fit a russian girl."

20.07.2017 (15:20)