CHLOE 15x20 CM

6 video projections
2 picture frames
2 sound pieces (essay + FAQ from ask.fm)
perfume smell (CMYK Delicious)
"Chloe 15x20cm" is a conceptual spatial installation. The central starting point is a stock photo from a cheaply purchased picture frame. Chloe 15x20cm is the exact product name of the picture frame model. The insert inside shows a portrait photo of a female model, it serves as a placeholder for private photos or other motifs. The photograph is merely a waste product. The person in the photo has no further significance; it merely encourages the viewer to make a purchase. As a potential blank space, it is overwritten, exchanged and replaced by the contents of the buyer.

The installative elements mix documentary research with fictional narratives. The identity of the model, the factual person behind the photo is reconstructed starting from a few manufacturer information via Google image search, image databases, websites, Facebook, Instagram, VK and Ask.fm. Contact is made with the real person behind the picture via an anonymous question portal. The profile grows: information such as measurements, leisure activities or preferred care products are determined and condense into a spherical network. The result is a walk-in montage of olfactory, visual, and acoustic fragments.

The work was conceived in 2017 in the underground car park of a former store on an area of 360 m². Through the chambers delimited with transparent films, one can see a blurred exterior. Moving through the installation causes the walls of thin foil to vibrate.


Chloe's true identity is not revealed.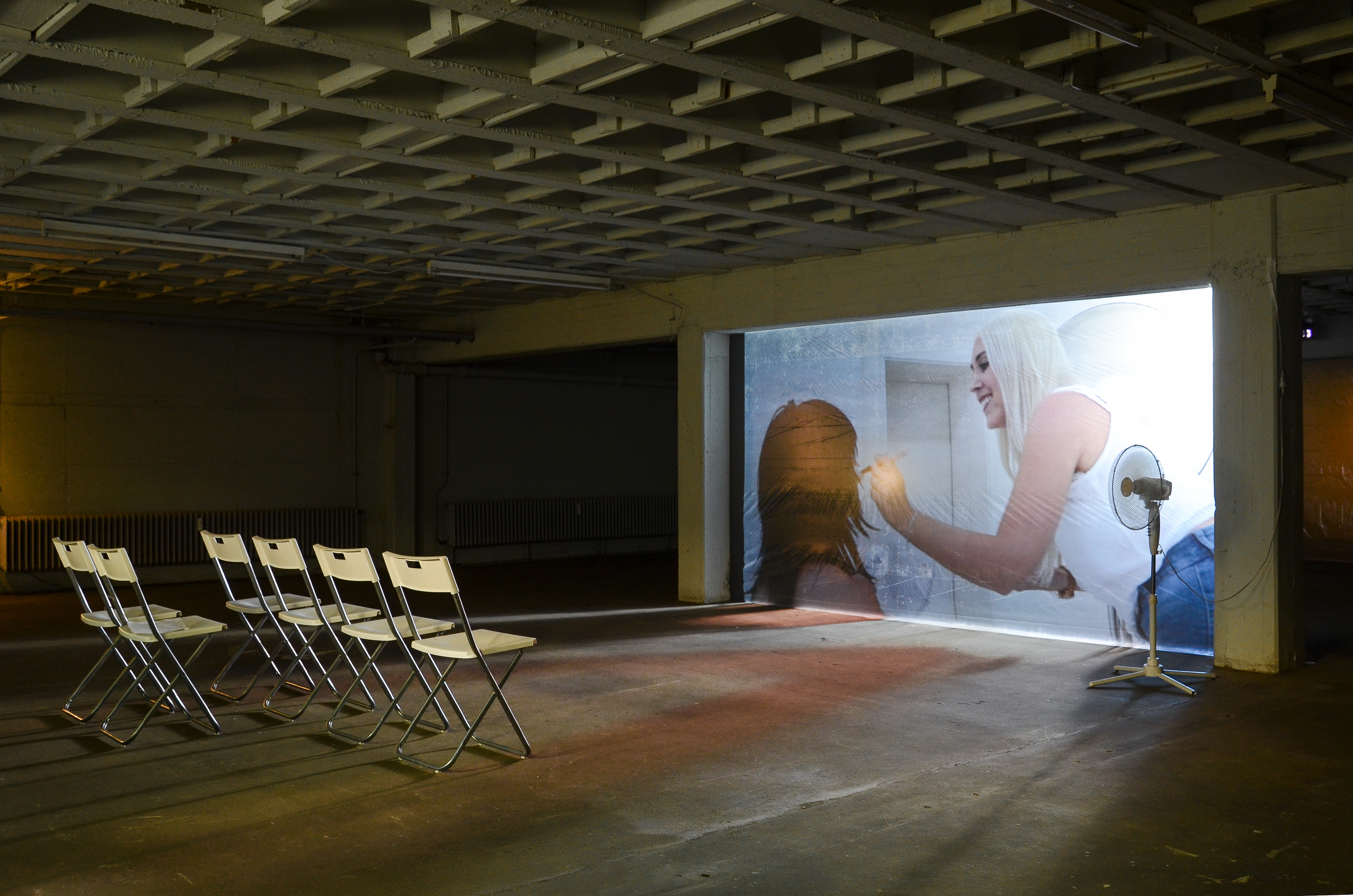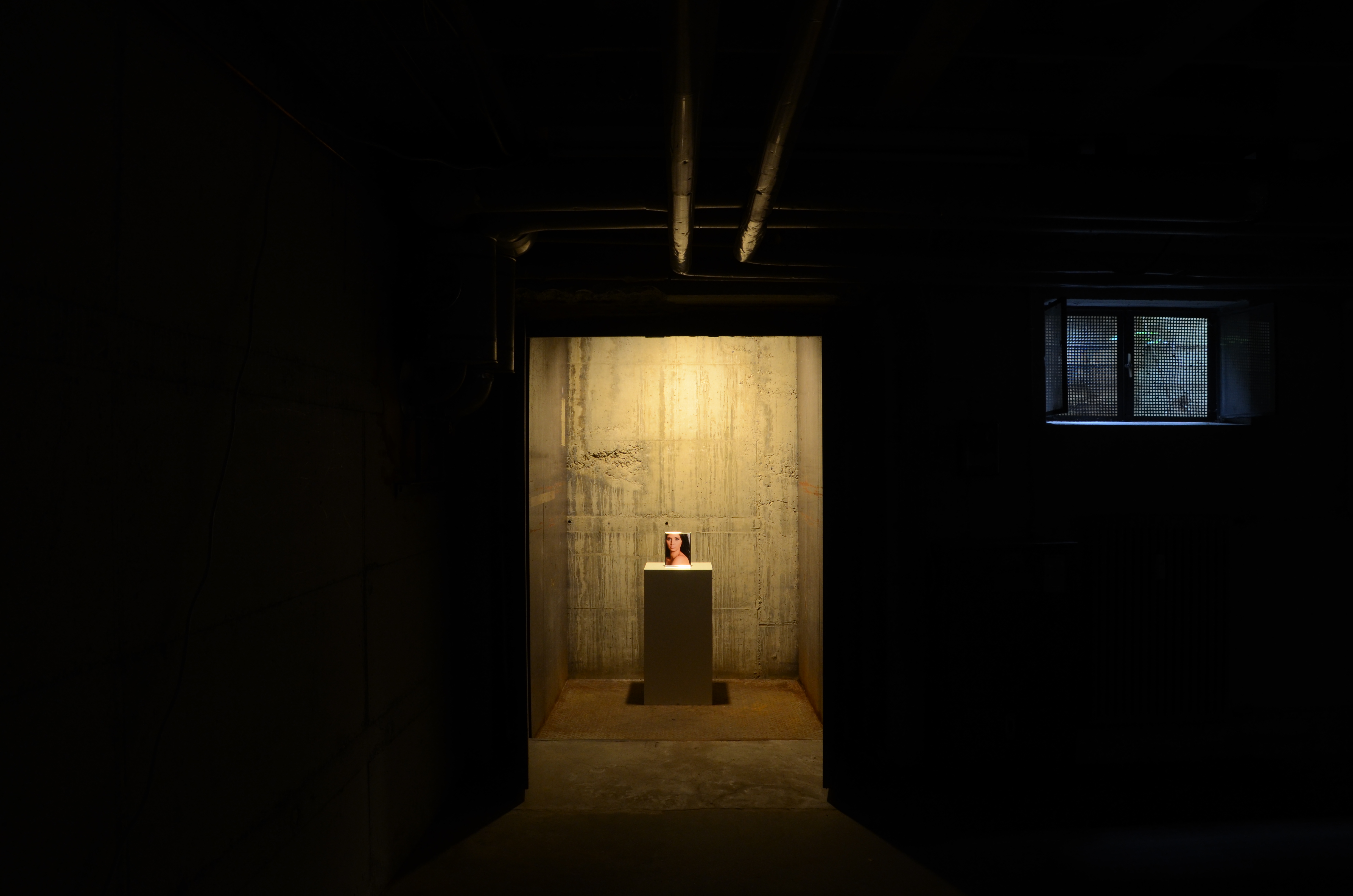 Recently I bought an apple with the face of the Mona Lisa on it. A sticker. The apple seemed to smile at me. That might sound kind of idiotic now, but compared to the other apples in the shop, this one attracted me the most. As if a thin aura had formed around it. Really strange. I then bought it and ate it. However, I have not noticed any particular difference in taste.

excerpt sound
anonymous: "Can you recommend a good photographer for an ordinary photo shooting?"

Chloe: "I don't appear on ordinary photos."


09.02.2015 (19:07)




anonymous: "Do strangers call you?"

Chloe: "No." 18.11.2014 (9:27)


18.11.2014 (9:27)


anonymous: "What about the evil eye? Are you afraid of it? Are there any amulets for photo models??"

Chloe: "I don't believe in that."

13.05.15 (23:32)

anonymous: "Classic face. Such girls are also called "moths". A white canvas, plasticine that can be brought into any shape."

Chloe: "A person who is changeable is global and universal."


15.06.16 (1:16)


anonymous: "What perfume do you use and what is your favorite smell?"

Chloe: "I have been using Be Delicious from DKNY for 10 years. My favorite smell is vanilla."

03.07.17 (3:39)


anonymous: "Is it still worth becoming a model at the age of 20?"

Chloe: "Depends on the case."

20.10.15 (22:01)


anonymous: "What face type are you?"

Chloe: "Commercial."


08.06.15 (4:44)
Ida: "What do you think of the name Chloe for a name?"

Chloe: "Beautiful name, but it wouldn't fit a russian girl."

20.07.2017 (15:20)