RESUSCI ANNE



video 7 minutes 38 seconds / manual 16 pages / Instagram Face Filter / plush heart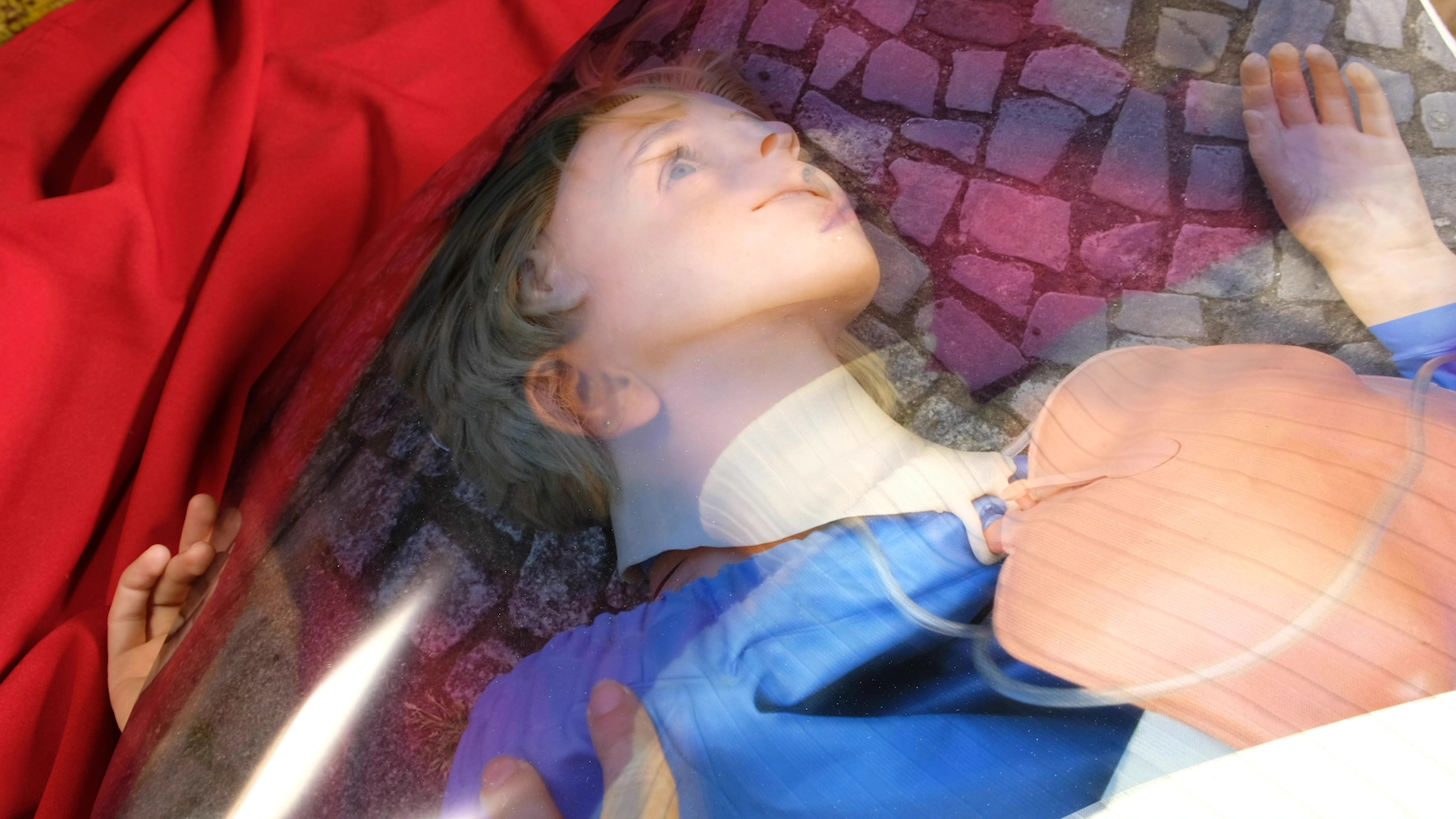 Resusci Anne is a video work based on two female figures from different eras and cultures. Each in their own way, both of the women have already become myths in the real world.

Resusci Anne is the official name of a standardized training manikin which is used in training cardiopulmonary resuscitation as a part of first aid. The doll was developed by Laerdal Medical in the 1950s and has since been used in resuscitation training courses worldwide. The model for the face of the training manikin is the death mask of a young girl (also known as L'Inconnue de la Seine) who is said to have drowned in the Seine River in France at the end of the 19th century. The mask appears throughout art history, especially among male artists, as a phantasm of the perfect muse.

A Russian travel blogger, Instagram influencer, and aspiring doctor is found murdered in her suitcase in July 2019. For a short time, her story is a viral topic worldwide. This leads to an increase of over 40.000 followers on the Instagram account of the deceased.

What happens when these two stories are compared and blended in a fragmented way?


The collage of images and language glides through two different lives, slides and news feeds on social media. The video has an apparent ambiguity: Again and again, timelessness is touched by the penetrative normalcy of images of women and neoliberal dispositives of mobility, flexibility, and creativity. The mask is a central picture. It functions as a cultural object, a digital tool, and as an identifying zero point. On her way, she goes through countless metamorphoses. As a virtual image that is constantly being transformed and re-transformed, there is no truth behind it.

Another key issue is travel. Travel blogging exists as proof of a constant desire to be in motion. It exists as a sign of one's longing to evade everyday passivity, to optimize oneself, to accumulate and intensify experiences.

Who fulfills the requirements in our society? Which passport? Which capital? Which global status is important? Which bodies circulate and how? Which escape lines are hidden behind our images? The death masks? The digital masks?

Resusci or Rescue can also be translated as liberation. Therefore, Resusci is not a reanimation of a myth but questions our patriarchal and western narratives. Instagram is viewed as a digital art story in which we seem only to interpret and canonize ourselves.