RESUSCI ANNE
video essay Resusci Anne (7:38 min)
video bodybag (11:09 min)
wall drawings
Satin Scroll (photoprint on satin)
partslist (evidence board)
Zine 16 pages + print (edition of 100)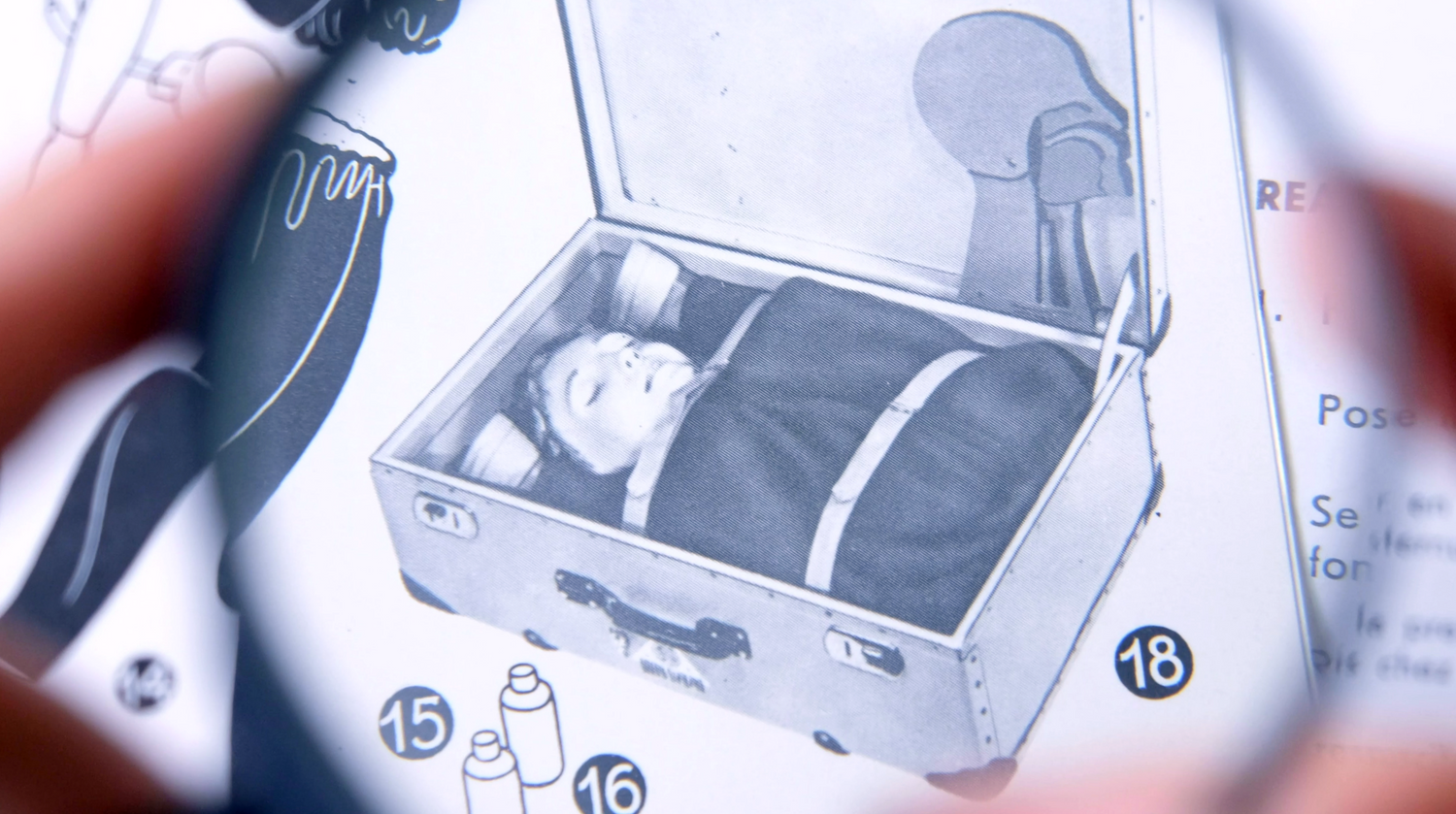 The wall drawings are from the original instruction manual and show hands deconstructing doll parts. By extending the fingernail, formerly male hands transform into female-read hands. In addition to the altered drawings, a logo was created and modified based on the original Laerdal Medical logo.








Two young women - separated in time, connected in the tragedy of the circumstances of their deaths.




»An endless history in a single thing. Escorted to climax by toymakers, doctors, pathologists, photographers, painters, writers, filmmakers, musicians, and a thousand other men I won't mention here.«

L'Inconnue de la Seine: At the end of the 19th century, the unidentifiable body of a young woman is recovered from the Seine, around whose supposed suicide numerous myths entwine to this day. Later known as the Unknown from the Seine, the death mask of her face achieves great popularity. The combination of tragic fate and mysterious circumstances of death make the mask a popular furnishing object, souvenir and mass product. As the ideal projection surface, she is the muse for an entire generation of male artists and literary figures of the 20th century.


»Saving lives by kissing.«

Half a century later, Asmund Laerdal turns the face of the Unknown woman from the Seine into the template for a groundbreaking invention: Resusci Anne. Also known as Rescue Annie, Resusci Anne is the first standardized resuscitation manikin used to teach and train cardiopulmonary resuscitation (CPR) worldwide.


»Annie, are you okay? Are you okay, Annie?«




»A line I read on the Internet hits me hard.«

In July 2019, the murder of a Russian travel blogger and aspiring doctor shook the media. The young woman's lifeless body is found in her travel suitcase. For a short time, her fate is a viral topic worldwide, leading postmortem to a doubling of her followers on Instagram. When it is revealed in the course of the investigation that the young woman has financed her luxurious lifestyle with a double life as an escort, the 24-year-old comes under heavy criticism in the Russian media. In one of the Russian talk shows with the highest ratings, countless of the total 651 Instagram posts are examined for alleged connections.


What happens in the fragmentary synchronicity and blending of these two narratives?




A suitcase, a found body, the mask, flowers, Instagram followers - fragments that swirl around and can hardly be grasped.





»Well too many pictures to look at.«


The anachronistic montage of both narratives makes both identities fluid and merge into a single mythical and allegorical corpus.